Focalistic – President Ya Straata – EP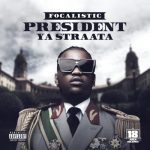 Focalistic – President Ya Straata – EP
Focalistic is back again with a new song titled President Ya Straata – EP.
President Ya Straata excludes the appearance of his Nigerian friend, Davido, but the artists definitely have something coming.
Apart from blessing his fans with his new EP, Focalistic will also be performing live at Montana Club on the 23rd of September, 2021.
Tracklist below.
1. Focalistic – Barcardi Ke Religion ft. Mellow & Sleazy
2. Focalistic – 16 Days No Sleep ft. DJ Maphorisa, Mellow & Sleazy
3. Focalistic – Paranoia ft. DJ Maphorisa & Busta 929
4. Focalistic – Peer Pressure ft. Caltonic SA
5. Focalistic – Rabaiki ft. DJ Maphorisa, Mellow & Sleazy
6. Focalistic – Honda ft. Felo Le Tee & Myztro
7. Focalistic – Mani Yoh ft. DJ Maphorisa, Mellow & Sleazy