VIDEO: Emtee – Logan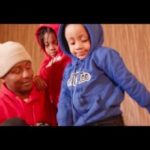 VIDEO: Emtee – Logan DOWNLOAD Mp4
Emtee has finally drop the video of the song he release since called Logan.
Other tracks from the album are Uzoyimela featuring Gwamba, Revolutionary, Long Way, Come Closer featuring J-Smash, Family.
Proving his worth in the industry, Emtee still holds the reign with Itemba and his featuring on Ami Faku's track titled La'La Ngoxolo.
Stream and watch the hit video below.