Felo Le Tee, Mellow & Sleazy – Liyasho ft. Mzu M & Zuma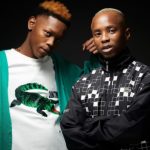 Felo Le Tee, Mellow & Sleazy – Liyasho ft. Mzu M & Zuma DOWNLOAD Mp3
Felo Le Tee, Mellow & Sleazy team up again and give us the fans what will want and the name of this song is Liyasho featuring Mzu M & Zuma.
They keep releasing the archive to their fans in getting prepared for something official like Gupta.
Seeing Mellow and Sleazy appear on tracks together, they drop this new mix after collaborating with Felo Le Tee on their Bopha hit featuring DJ Maphorisa.
Felo Le Tee, Mellow & Sleazy – Liyasho ft. Mzu M & Zuma DOWNLOAD Mp3